So what do you get when you combine the iconic Mario with the greatest RPG developer of all time? You get one ass raping good time motherfucker.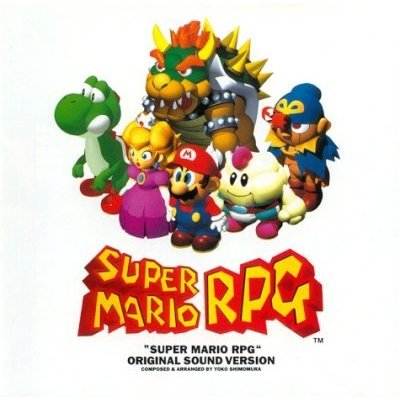 I'm sure everyone has played this game, but if you haven't I suggest you download it and then kill yourself for not playing it sooner. This game is a great blend of Mario style platforming with traditional RPG elements, with a unique battle system thrown in. Instead of just choosing attack and watching, you can press the button again at the right time for extra damage. This process is known as timed hits and I wish more games would incorporate it. After playing SMRPG I try to do timed hits in every other RPG, it would be nice if it would actually fucking do something. I mean goddamn.
This game is proof that the SNES could crank out some great graphics. Personally I think this game looks better than Super Mario 64, with its jagged blocky characters and such. And the music, goddamn, it's awesome. Unlike Frantic Flea, you'll enjoy it when these songs come into your head when you're taking a dump at 3 am.
So what's this game about? Well Bowser kidnaps the princess, Mario goes to save her, standard Mario game, but then BAMF a giant sword knocks the shit out of everybody and then you have to collect 7 stars for some reason. Inspiring stuff, really. You end up with 5 party members - Mario, some marshmallow man, a giant penisless doll, Bowser and the princess, who was still called Toadstool and that's the way I like it goddammit. Fucking Peach my hairy nuts.
Overall this is an amazing game. It combines platforming and RPG elements seamlessly, with a great charm and sense of humour that appeals to kids and adults. Unlike Frantic fucking Flea, which only made me laugh when my incontinent grandfather took a steaming piss on it. It would have been nice if Luigi was in the game, Luigi always gets fucked. He wasn't in SM64 either, what the hell? Luigi is awesome.
Overall 10/10: Classic