I'm not going to lie, I don't like this game. I mean I know it was released a long time ago so I should give it some slack, but I played it in 2005 and I just found it too boring. I'll give it credit for innovating the Final Fantasy series and saving Square, but playing it now is like watching paint dry.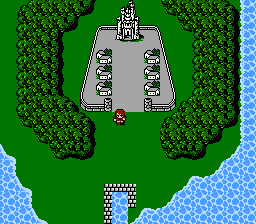 So what's this game about? Well you're these 4 warriors from nowhere who have to save the world from Garland, who is about to knock you all down. Sure it sounds great, but that's the entire fucking plot. Like there's nothing else, at all. You spend the rest of the game trying to talk kings into building bridges. BORING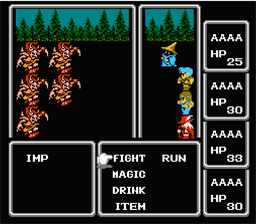 Boy these graphics are amazing. I guess you're fighting in space because there's no land. The music is alright, for a game from 200 years ago anyway. One interesting feature is that you can choose what class you want your 4 characters to be at the start of the game. This gives you hundreds of ways to play through the game. Of course that's like taking different kinds of laxative - sure it'll be a bit different each time, but you still end up with a pile of shit.
If you want to know what playing the first Final Fantasy is like, look at this picture. Now take away the background, interesting characters, cool enemy, different skills, and everything else that's fun, and you're left with Final Fantasy 1.
Overall: 3/10 - boring, but gets points for being the start of a great series.